About Andy OnCall®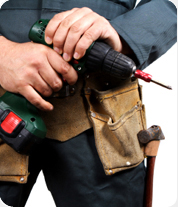 When you need a home repair, simply contact ANDY OnCall®, and we will send you a skilled, qualified craftsman. The craftsman working with an ANDY OnCall® office provides you with a FREE Estimate and is ready to begin the job right away, staying until it is completed to your satisfaction. Each location is independently owned and operated. In case of hidden problems discovered during the job, the craftsman will stop all work, advise you, and wait for your direction and approval before proceeding.
Andy OnCall® Makes Projects, Repairs & Maintenance Easy & Hassle Free!
ANDY OnCall® is licensed, bonded and insured and guarantees all craftsmen work with a one-year WRITTEN WARRANTY. We accept projects as small as one hour as well as projects that take several days. No job is too small.